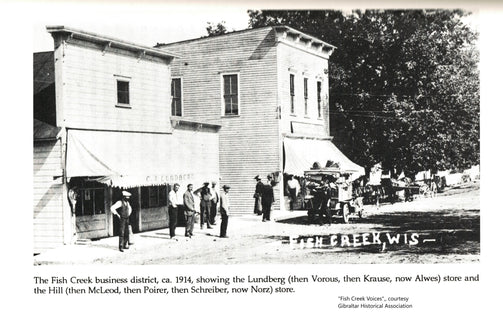 Historic Mercantile & Specialty Grocery
Fish Creek Market continues the tradition of a family-run general store, spanning more than 125 years of continuous operation in the same location. It's our mission to surprise and delight with a warm, welcoming shop that is at once nostalgic and forward-thinking.
We strive to create an experience for you that blends the best of old and new: against a backdrop of original finishes and fixtures, you'll find a modern array of local goods, thoughtful gifts, useful supplies, artisanal foods and grocery essentials; plus a diverse inventory of wine, beer & fine spirits.
Your Door County adventures may take you on trail or by boat, in camp or about cabin, and the market has provisions to make your day delicious from sunrise to sunset: bakery treats, extraordinary custom sandwiches, salads, soups, and plenty of grab & go options.
In the Heart of Door County
Whether you live here, come back every year, or make the trip only once, you're bound to find yourself on an excursion to Main Street in Fish Creek.  It's a perfect place to stop as you explore the Door County Peninsula.  One of the most beautifully-situated small towns anywhere...lined with shops, restaurants, galleries.  Easy to walk, easy to bike, right on the water and adjacent to Peninsula State Park.  We love it here and look forward to welcoming you!